Slowing import growth at container ports started in April though the total volume of containers handled should hit an all-time high by the end of the summer. Forecasts estimate that while summer numbers will continue to grow month over month, few reports will show a jump on par with what we saw from February to March of this year. Attributed to a decrease in China's industrial output, the numbers aren't unexpected or worrisome for analysts as the industry put up some huge numbers early in the year, leading to an expected slowdown.
Ports handled roughly 1.61 million TEUs in April, an increase of 4.8% in March (11.3% over March 2016) though details for March numbers showed ports handling 1.53 million TEUs, which was a 6.8% spike over February 2017 and a mammoth leap of 15.8% above the March 2016 figures.
According to the monthly Global Port Tracker report by the National Retail Federation (NRF) and Hackett Associates, "Year-over-year comparisons are slowing down, but that's largely because we had some unusual numbers early this year and strong volume in the second half of last year. Despite that, we're expecting some of the largest import volumes we've ever seen, and that's because retailers are responding to strong consumer demand."
Strong consumer demand doesn't show any signs of slowing throughout the summer and well into the fall. Report forecasting each month year-over-year expect: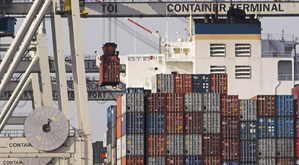 • May – 1.69 million TEUs, an increase of 3.9%
• June – 1.64 million TEUs, an increase of 4.1%
• July – 1.68 million TEUs, an increase of 3.5%
• Aug – 1.74 million TEUs, an increase of 1.6%
• Sept – 1.64 million TEUs, an increase of 2.8%
• Oct – 1.69 million TEUs, an increase of 1.3%
Included in the above research estimations are the U.S. ports of Los Angeles, Long Beach, Oakland, Seattle, Tacoma, New York/New Jersey, Hampton Roads, Charleston, Savannah, Port Everglades, Miami, and Houston.