On September 15th the Port of Norfolk hosted the CMA CGM Brazil, the largest vessel to call the U.S. East Coast. Over 15,000 TEUs, the CMA CGM Brazil is part of a newer, larger crop of container ships that came out after the Panama Canal was expanded to fit larger ships. These post-Panamax vessels hold more than 15,000 TEUs and in some cases can get closer to 20,000. While the expanded number of containers means more cargo can move by sea, the loading and unloading of these behemoths can slow port operations and in the current logistics predicaments that can exacerbate equipment concerns.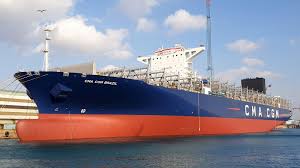 Fewer smaller vessels are faster to move in and out and they'll get equipment on and off faster, keeping containers in the market faster than if they have to be unloaded after 13,000 others. Because equipment has become scarce in the wake of the COVID-19 pandemic, blanked sailings have left equipment sitting when it should be moving to destination ports.
In many ways the initial idea behind these monster ships was to provide the distance trip on a post-Panamax and then the final port delivery by a smaller vessel that can traverse faster and empty quicker. Interestingly the idea is the same as the plan for driverless trucks on freeways across America. the trucks would be driverless on the interstate system, then self park outside of cities where drivers would take over and go through the more dangerous cities and delivery areas. Drivers could stay closer to home and larger vessels can be served by ports that are accustomed to service such huge deliveries.
The Port of Norfolk is uniquely situated and enhanced for these larger ships as the bulk of the infrastructure required was finished in 2019 giving the extra depth required for these ships. If you're moving ocean cargo and would like to look at the routing options, travel times and sister ports that may make your shipment arrive sooner, reach out to your Nelson International representative today!