As the bunker surcharge drops, some shipping lines are rerouting their vessels to move around the Cape of Good Hope instead of voyaging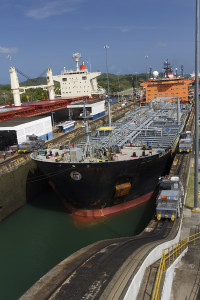 through the Panama and Suez Canals. Carriers offset the distance by speeding up the ships so transit times aren't suffering. Even a faster ship, sailing further, is saving money by not paying the fees from the canals.
Sailing around the Cape of Good Hope to Asia from the U.S. East Coast adds an average distance of 4,400 nautical miles if ships avoid the Panama Canal and 1,500 nautical miles for those avoiding the Suez Canal. Typical speeds on a return trip via panama average 12.9 knots (13.7 knots via Suez) and those speeds would increase to 18.6 avoiding Panama and 15.7 avoiding Suez to maintain the schedule. The savings, according to the February 14th issue of SeaIntel Sunday Spotlight, could range from $2,541 to $421,217 depending on the shipping line, ports of call, and capacity. Another bonus comes if services slow to accommodate the distance and lower speeds; the current over-capacity and port delays can be significantly eased as the flow would lose approximately 60-80 vessels.
As these issues develop, Nelson International is here to find the best routing, price, and transit for your cargo into and out of Asia. We're excited to see how this affects our growing port in Virginia and the increasing cargo loads. Reach out to us with any questions or concerns and we can help.