Though total container volume for March has fallen 7.2%, the Port of Virginia states this is the second best March total on record with 120,519 TEUs. The fall is attributed to an outstanding March of 2015 where inclement weather at the end of February caused extreme delays and outbound cargo was held until the following month, inflating the totals. This, coupled with the West Coast port congestion and labor disruptions, made March 2015 hard to beat this year. However the fall was not drastic and the solid numbers show volumes are steady and service times are fast improving.
"We are forecasting modest growth for the balance of the year, so our focus will be on service, cost-control, and implementing critical infrastructure improvement," John Reinhart, executive director of the Virginia Port Authority, said in a statement.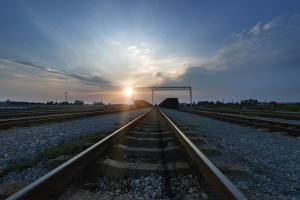 Also in March the Port of Virginia set a new record for rail cargo as they processed 46,000 containers which was 39% of the total container traffic. "Our message about the strength of our rail connections to critical Midwest markets is resonating with the market," Reinhart said. "Rail volume at the port is up 15% and 10% for the calendar and fiscal year, respectively."
Coupled with the strong rail business, Virginia Inland Port (VIP) and Richmond Marine Terminal (RMT) also grew in March, wildly passing numbers from March 2015. Container volume at RMT increased by 58% and VIP increased 45% over numbers from March of last year.  "Since Richmond Marine Terminal has been under our management, this is the first month that volumes there have exceeded 2,000 units," Reinhart said. "Richmond and the inland port are showing their capabilities and potential and they will be vital as we go forward with our plans to significantly increase capacity at our primary, deep-water terminals over the next three to four years."
As the Port of Virginia solidifies its place as a powerhouse port on the East Coast, Nelson International is in a perfect location to handle even the most complex ocean cargo. We're ready and excited to see how the infrastructure improvements and dredging expands our port and allows access to the bigger ships sailing this summer. Please contact us if you have any questions about your ocean cargo.