According to an article in the Wall Street Journal, the US Justice Department raid on the Box Club meeting in late March was due to suspected collusion against tug boat operators by global shipping alliances. The increased attention on alliances is pushing Congress to get involved and revisit the Shipping Act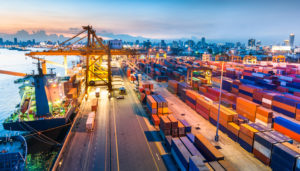 of 1984 which was amended in 1998 to allow contract confidentiality between shippers and carriers. With the three massive alliances in play as of this year, regulations on how they will set prices, negotiate and manage their contracts are of paramount importance to ports, terminals and dock workers and the joint-contracting that shipping alliances are allowed or not allowed to do. The number of major carriers has fallen from 20 to 17 in the last few years and will go to 13 in 2018, if planned mergers go forward, no more are announced, and none become the next Hanjin Shipping by collapsing.
Representatives of both sides are set to testify at a Congressional subcommittee hearing in May regarding the new rules and regulations that will need to be in place to protect both sides from collusion, price fixing and the protection of private information between the allied parties. While almost all alliance agreements include joint-contracting language, it has been removed due to antitrust laws before the agreements are filed. Once the mergers are complete, companies can operate as a single entity; in the months leading up to the merger, they are legally unable to negotiate as a whole single party.